Bio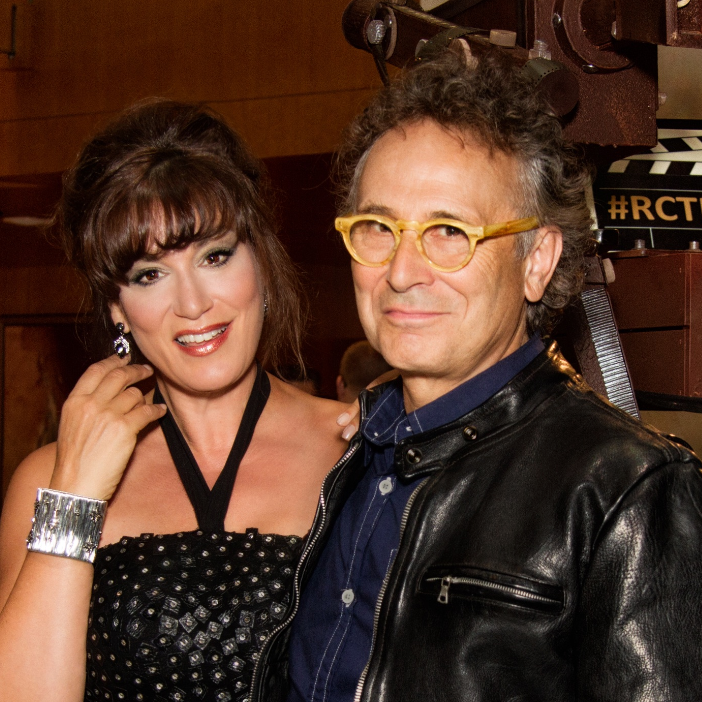 Marc Jordan and Amy Sky
He Sang She Sang
 And they sang together, and it sounds divine. In early 2022, Linus Entertainment will release this album of duets by Marc Jordan and Amy Sky, a true power couple within the Canadian music community.
 Happily married for 34 years, they are both highly-acclaimed and commercially successful singer/songwriters who have enjoyed hits on their own as well as writing hits for such A-list artists as Rod Stewart, Diana Ross, Chicago, Olivia Newton-John, Heart, Reba McEntire, Joe Cocker, Bette Midler, Bonnie Raitt, Cher, Cyndi Lauper, and many more.
 Thankfully, the dynamic duo have overcome earlier reluctance to make an album together. Their first duo record, He Sang. She Sang. is a superbly-curated collection of songs that combines fresh takes on some beloved classics with new original compositions.
The covers include songs by Tom Petty ("Free Falling"), The Beach Boys ("God Only Knows"), Smokey Robinson ("Ooh Baby Baby"), Willie Nelson ("You Were Always On My Mind"), and Bonnie Raitt ("You"), all given vibrant new life here by being performed in a duets format by two masterful vocalists.
Like two married film stars who choose not to work in the same film, Jordan and Sky had previously decided not to make a joint record or write much together. Sky explains that "one of the reasons we've had a long and successful marriage is that we're in the same business but in very different departments. We write with many of the same people but we try not to collaborate too much. We aim to be a support to each other, rather than being the person causing you work problems."
He Sang. She Sang has been a long work in progress, with sessions taking place in Nashville and Toronto since 2014. Marc describes the song selection process this way: "We'd be driving in the car together and would just get an idea for a song. When we got home we'd sing it, and if we liked the way that went, we'd put a session together and demo it. If it passed that test, we put it on the list."
Jordan and Sky have different sets of musical influences, but found a sweet spot of common ground on the selection of cover songs. Amy explains that "if you imagine a Venn diagram of Marc's influences and mine, we tried to pick songs in the middle of that diagram, from artists in which we both had stylistic roots. We both love Tom Petty, the Beach Boys, Motown, and especially Bonnie Raitt."
There is an appealing diversity in the song selection, with tunes taken from rock, pop, soul, folk, and Americana genres. To Marc, "these are all just great and timeless songs, from an era we consider the second Great American Songbook. We hope this won't get pigeonholed as a record that only exists in one period of time. I believe you can listen to it for years."
The duo do dip into the original Songbook for a classic Christmas tune, the now-controversial "Baby, It's Cold Outside." The oft-covered song is given a fresh twist here, with Amy taking the man's part and Marc the woman's.
The album's leadoff song and first single is the pair's compelling take on "Free Falling" one of Tom Petty's signature tunes. After a beautiful resonator guitar from Jamie Oakes, Jordan and Sky introduce their vocal magic, setting the table for the musical feast that follows.
Complementing the well-curated covers on He Sang, She Sang. are five Sky and Jordan originals. Amy contributed five compositions written for the project, while a new take on "I Have No Doubt," a Jordan song he previously recorded, fits the format perfectly.
Tapped as an upcoming single is the Sky composition "Long Shot," a big-sounding pop ballad about taking a chance on love. "I wrote that with my longtime collaborator, Anthony Vanderburgh," says Amy. "We co-wrote one of my biggest hits, [1997's] 'Til You Love Somebody.'
Another song especially close to the couple's hearts is Sky's "I'll Give You Wings." "I wrote that with John Jarvis, Vince Gill's pianist and writer of his smash hit 'I Still Believe In You,'" Amy recall s. "That is such an inspirational song," adds Marc. "It is about unconditional love, and giving your partner, or your children, freedom."
Amy notes that "I wrote one song, 'Falling For You,' for us to sing together for the whole song. Outside of the Beatles and Everly Brothers, that is quite rare."
There is enough contrast in the technically masterful voices of Marc and Amy to grab and hold your attention. Jordan, well-schooled in the jazz vocal tradition, is a virtuoso of phrasing, bringing lyrics to life in subtly understated fashion. Sky possesses a rich and mellow alto voice, one brimming with emotional expressiveness.
On He Sang, She Sang, the pair trade lines effortlessly, then bring those voices together in perfect harmony. Amy praises her partner as "a genius in vocal arrangements. The way a lot of the vocals are arranged and harmonized is Marc's contribution to the record. You can really hear his signature on the covers."
She cites the duo's version of "Dimming Of The Day" as an example. "We were inspired by the Bonnie Raitt and Richard Thompson duet version of that song, though ours is much slower. We added an extended tag of Marc's adlibs that I harmonised to."
The impeccable musicianship on the album stems from Jordan and Sky's recruitment of the cream of the crop of session players in both Nashville and Toronto. The Music City cast includes keyboardist and Grammy-winning producer Matt Rollings (Lyle Lovett, Willie Nelson), bassist Viktor Krauss (Lyle Lovett, Alison Krauss), guitarist Tom Bukovac (Vince Gill), and drummer Fred Eltringham (Sheryl Crow, k.d. lang).
Marc explains that "They are such brilliant players. When you put a session together there with four guys, chances are that in the last month they've played together 10 times. It is an instant ensemble. They integrate quickly and beautifully, and they understand structure and play accordingly."
Elite Canadian musicians featured include guitarists Jamie Oakes, Jason Fowler, and Anthony Vanderburgh, violinist Anne Lindsay, drummer Lyle Molzan, bassist Marc Rogers, famed string players Wendy Solomon and Drew Jurecka, and string arranger Lou Pomanti, plus guest horn and strings players.
Marc and Amy also enlisted family support in the making of He Sang. She Sang. Daughter Zoe Sky Jordan, son Ezra Jordan, and Zoe's husband Liam Russell are all acclaimed singer/songwriters and they add background vocals on the record (Ezra also adds piano to "You," and Liam plays drums and bass on "Like Water From A Stone").
Jordan and Sky are now eagerly anticipating the opportunity of performing this material onstage together. "We are both very busy with our own projects, so we may never do an album together again," Sky explains. "This will be a unique opportunity for people to hear us together."
Reflecting upon the goal of He Sang. She Sang., the pair state that "We wanted to explore the duet as an artform and we wanted to make a record that harkened back to the time when both of us were beginning as artists, the era of the singer/songwriters of the '70s.Their music was just delicious, rich and textured with really strong melodies and thoughtful lyrics."
Consider that goal accomplished in enchanting fashion.
For more information, contact Eric Alper
eric@thatericalper.com
647-971-3742